The Hand Rehab Gloves Urehab-HR10 is dedicated to assisting stroke survivors and patients with a variety of hands impairment to start their robot-based hand rehab program from the comfort of their homes.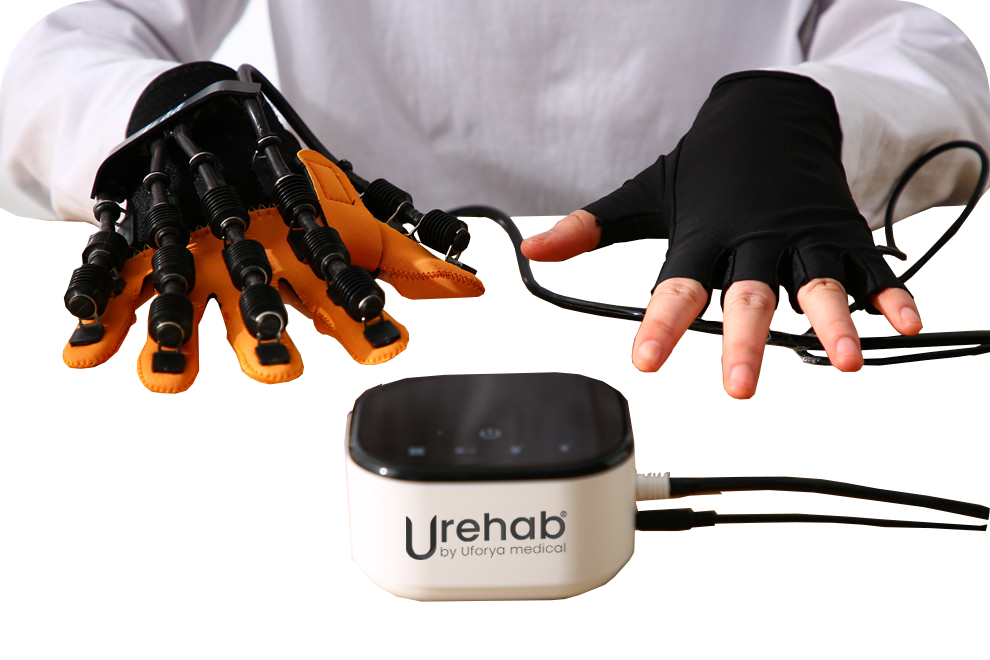 Advantages of the Urehab-HR10 Hand Rehab Gloves
Stroke survivors can benefit from cost-effective home treatment that is simple to use and allows them to exercise whenever and wherever they choose to.
Helps patients regain their capacity to look after themselves in daily life by rehabilitating their hand functions through a highly accessible hand rehab routine.
Mirror neurons are activated when both hands move at the same time, replicating normal hand nerve routes to the afflicted hand and promoting brain autonomic recovery.
Polymer soft gloves, available in a variety of flexible polymer materials, three-dimensional cutting, designed to fit the human hand, manual pneumatic flexible drive, simple and convenient
Used to treat hand injuries, cerebral palsy, stroke patients, cerebral ischemia, cerebral palsy and multiple hand impairments.
multiple training modes which includes passive and active excercises, game-based rehab, mirror therapy..etc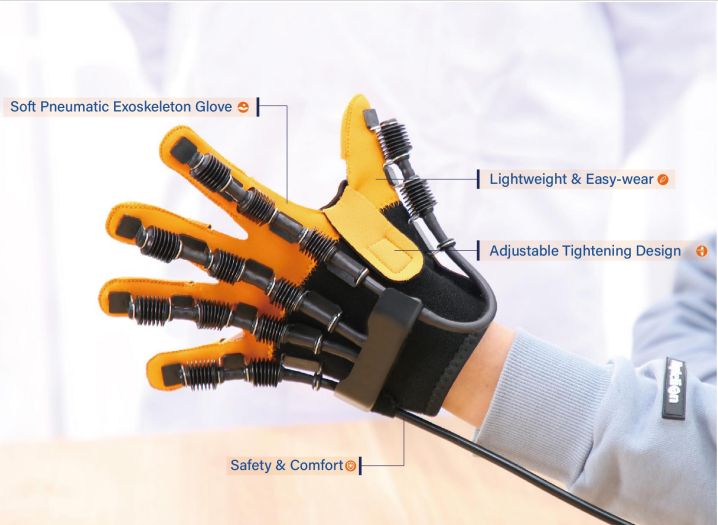 Hand Rehabilitation Gloves Training Modes: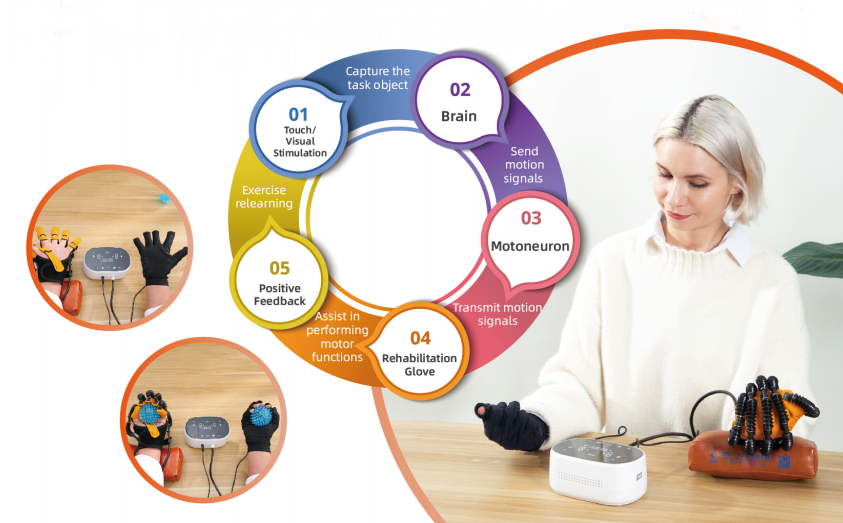 During mirror therapy, the mirror glove is worn on the nonaffected hand, which contains the force and flex sensors, is used to measure the gripping force and bending angle of each finger joint for motion detection. The motor glove, driven by micromotors, provides the affected hand with an assisted driving force to perform training tasks.
Activities of daily living (ADL) training:

Activities of daily living (ADL) are also called self-help or self-care activities. These activities can include everyday tasks such as dressing, self-feeding, bathing, laundry, and/or meal preparation. Urehab-HR10 will detect weak conscious hand activity then boost it to complete the intended hand movement.   
Passive flexion and extension therapy: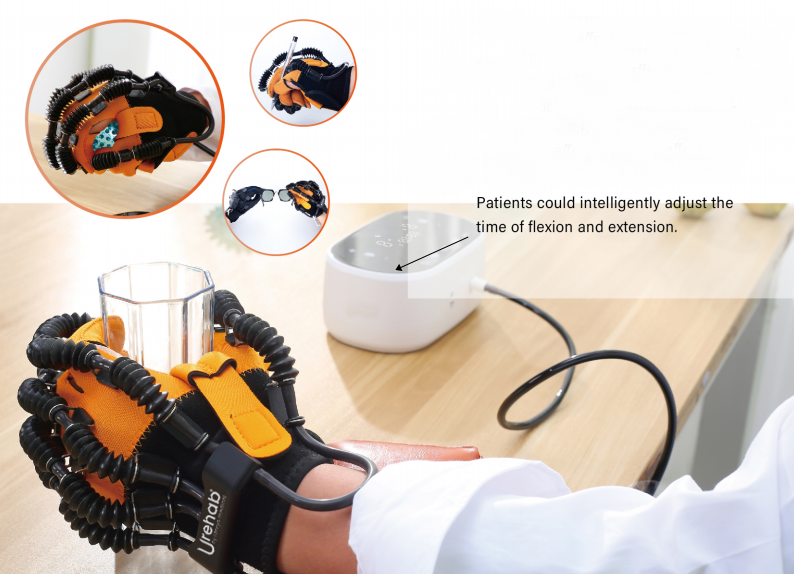 The Portable rehabilitation gloves Urehab-HR10 helps patients to flex and extend their hands and fingers. The passive hand rehab gloves exercise includes a large range of motions. The number of sets and time of the training can be adjusted from the console.
Scope of Applications
Crush injuries and other hand trauma.
Tendon and/or ligament tears and other tendon injuries.
Peripheral nerve disorders and other neurological conditions.
Fractures and dislocations.
Arthritis or tendonitis.
Carpal tunnel syndrome.
Dupuytren's contracture.
Post-stroke training ..etc.
How To use the Hand Rehab Gloves?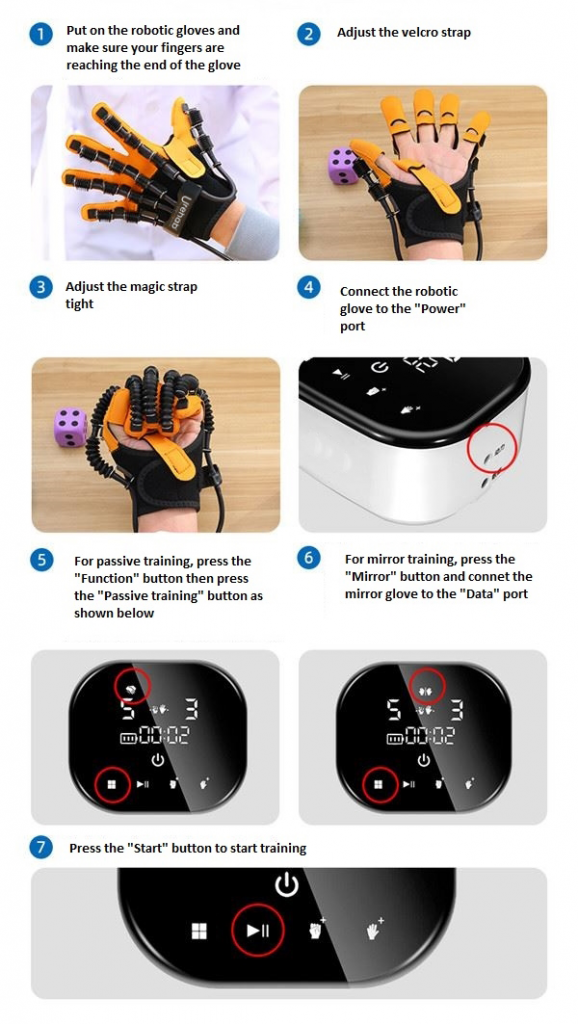 Hand Rehab Gloves Sizes : 


FDA, CE