Overview:
Stroke patients finger recovery training hand rehabilitation rechargeable, portable

Portable Rechargeable Multi-Functional Finger/ Hand/ Wrist Recovery Massage Device Massage Rehabilitation Equipment to Help Stoke Patients Do Hands Exercise to Improve Stiffness and Cramps
Are You or People Around You Troubled by One of Followed So Much?
– Can't get stuff alone?
– Unable to eat and drink alone?

Hand Dysfunctions Due To Brain Injury?
– Unable to dress alone?
– Unable to read or watch phone by yourself/ himself/ herself?

Urehab-HM finger rehabilitation training device is suitable for patients with hand dysfunction caused by stroke, cerebral hemorrhage, stroke hemiplegia, and brain injury. It is a revolutionary and innovative product for hand function rehabilitation. It combines flexible robotic technology and neuroscience theory, using flexible pneumatic bionic muscles as a power source, which can promote finger flexion and extension, reduce muscle tension, promote blood circulation, relieve edema, and prevent muscle atrophy. At the same time, it can help users relearn through exercise from the three levels of nerves, brain, and muscles, and rebuild brain nerves to control the hands' movement.

Device Size: 9' x 5' x 4'
Built-in Battery Volume: 3000AMH (4 hours use)
Optional Programs: 4 modes: A, B, C, D
Pressure Range: 100mmHg~180mmHg
Main Features
Portable compact host device, low decibel mute.
Multiple functions: single-finger, multi-finger training function, passive function, mirror function, air
wave massage function.
Touch keypad, adjustable treating time with LED display, and available to toggle mode.
The recovery glove for finger extension and flexion is a glove that imitates the hand structure and fits the shape of the hand, based on the pneumatic working principle, it helps hands grip and release exercise.
The data glove controls the extension and flexion of the other glove.
Added air wave massage function, built-in pressure sensor, air pressure range is 100mmHg-180mmHg.
Built-in 3000mAh lithium battery allows longer working time, and the longest can be used for 4 hours.

SPECIAL FUNCTIONS

Single finger training is the characteristic function of Urehab-HM finger rehabilitation training instrument. Studies have shown that single-finger training can significantly improve the rehabilitation effect, and more effective acupuncture for functional rehabilitation of damaged fingers is a new hope for hand functional rehabilitation. Urehab-HM finger rehabilitation training instrument innovative single-finger training, patients can use the machine to select indicator lights, targeted training for fingers with impaired hand function, activate brain neurons, and make hand function rehabilitation more efficient. During use, the patient can also set the flexion and extension time separately according to the level of muscle tension to help the fingers flexion and extension.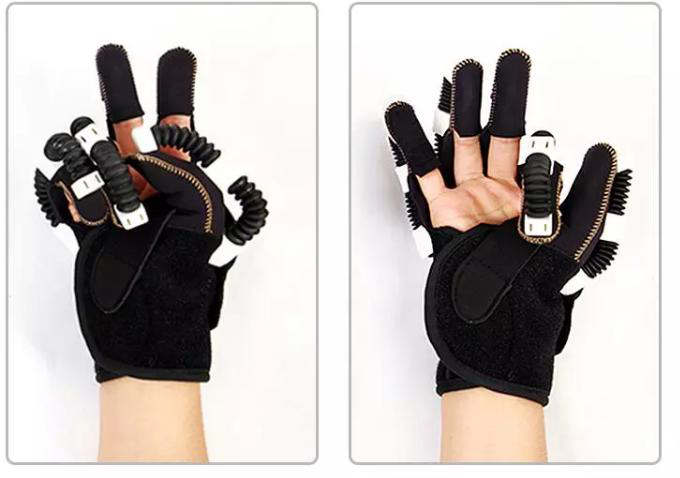 Hand air wave massage therapy is another characteristic function of Urehab-HM finger rehabilitation training instrument, which plays an auxiliary role in hand rehabilitation training. Before training, massaging for a few minutes can promote the circulation of blood and lymphatic tissues, accelerate the return of blood tissues, clear blocked blood vessels, promote blood circulation, and activate vascular cells; after training, it can enhance the vitality of cells, the absorption of body tissues, and promote the heart and brain blood vessels, so as to relieve soreness.
Passive Flexion And Extension Training In passive mode, the affected hand wears recovery (rehabilitation) glove. Under the drive of Urehab-HM, do flexion and extension training for 20 minutes each time, 2 to 4 times a day.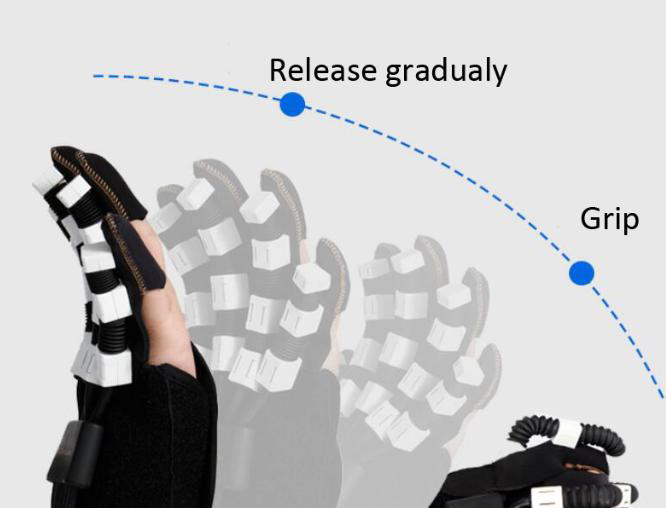 Task-Oriented Training
With the aid of recovery (rehabilitation) glove, the patient's affected hand grasps the water bottle (or ball or others) on the table in front of him close to his mouth and puts it back in place; Or close to another cup to a pour water and put it back it place. Or holding the door handle try to rotate the door handle and pull the door open, In the scene of daily home life, do action training 20 minutes each time, 2 to 4 times a day.
Mirror Therapy for hand function rehabilitation: innovative mirroring is the recommended method of the hand function committee. Hand gesture captures glove rehabilitation data. Healthy hand drives affected hand, nerves, brains and muscles are learning at the same time. The healthy hand drives the affected hand, the hands move synchronously, activate the mirror neuron. The normal hand motor nerve pathway was copied to the affected hand, and promote the recovery of brain autonomy.
Details:
Certifications: